A day trip from Berlin to the historic tram to Woltersdorf in Brandenburg is sure one of the most mindblowing things to do around Berlin – A real secret spot of Berlin
A day trip from Berlin to the historic tram to Woltersdorf in Brandenburg is sure one of the most mindblowing things to do around Berlin – A real secret spot of Berlin. Or would you expect a historic tram like the Lisbon Trams just 30 minutes by commuter train from Berlin Alexanderplatz which will take you to a place where you can hike in the woods or relax in a typical german beergarden by the lakes?! This is an itinerary for an easy day trip from Berlin by train and historic tram.
How to get there is easy answered. From main hubs like Hauptbahnhof, Friedrichstraße, Zoologischer Garten, Alexanderplatz, Ostkreuz it's a direct ride on the S3 train towards Erkner and until "Rahnsdorf" station. To doublecheck your best connection and get up to date informations about Berlin public transport download the BVG Fahrinfo plus APP (Berlin Public Transport). Information about the right ticket later in this article.
When you reached Rahnsdorf station there is just one exit. The signs "Tram" will guide you the way to the tiny tram station in the woods. Once the cute tram arrives, the world slows down a lot and it can even feel a bit like time travelling. Take your time to do some photos, as the tram driver will do a little break before going back.
Once you entered the tram the adventure starts. The very best: Different to the overcrowded trams in Lisbon, the small Trams mostly have plenty of free seats. While the little Tram is making it's way through the forest and the tiny town of Woltersdorf until it reaches it's final destination "Woltersdorf Schleuse", you can enjoy the ride by the fullest. After about 20 minutes exit the Tram at the last stop."Woltersdorf Schleuse" station is located next to two lakes, which are connected by a watergate for boats.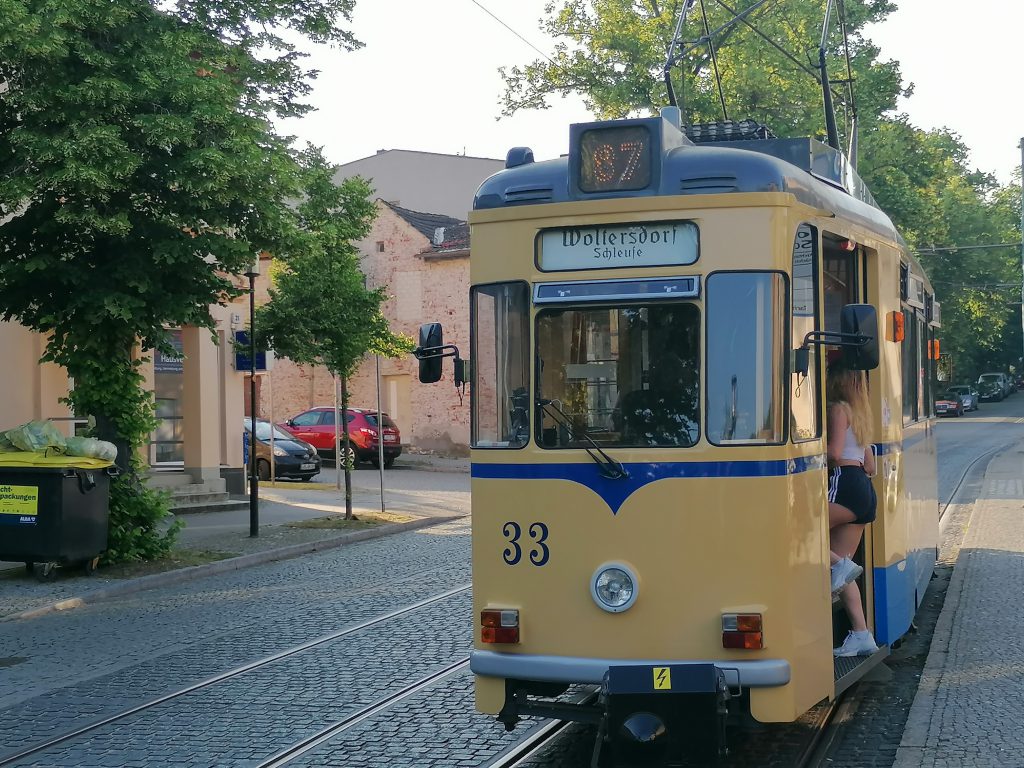 Once you reached there you are free to decide wether you just wanne hang out in one of the authentic german beer gardens and restaurants by one of the best lakes around Berlin or hike up to "Aussichtsturm Woltersdorf" – an observation tower on top of a small mountain with a fantastic view over the area.
Worldtrip Berlin Tip: My favorite place to go for eating are the "Flankenseeterassen". If you wanne go for a beer, try the "Woltersdorfer" homebrew at "SchleusenWirtschaft". But there are some more beergardens and restaurants. Just follow your heart. 🙂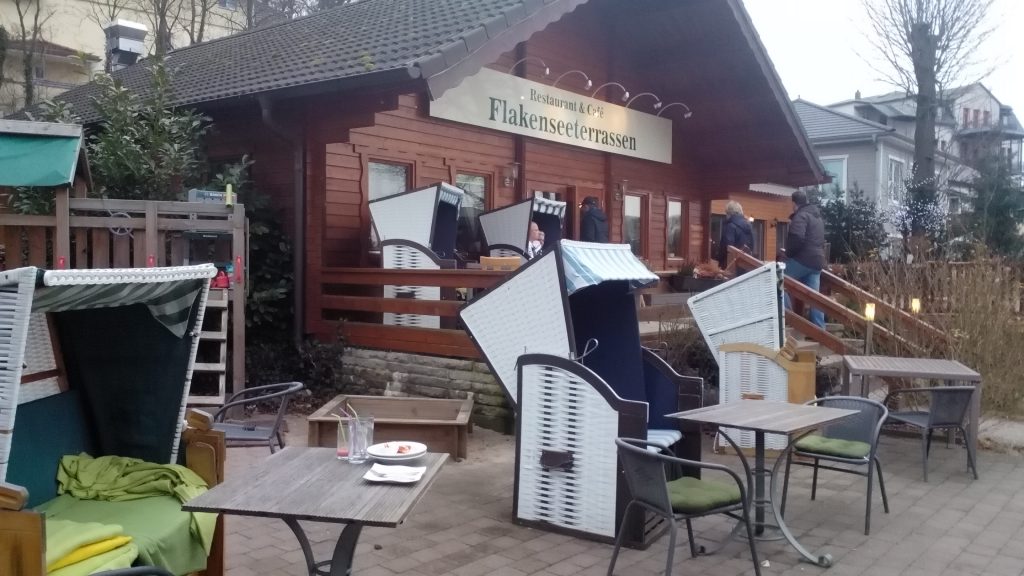 The way back to Berlin from Woltersdorf is the same. I promised you an easy day trip from Berlin before, right?!
Which Berlin metro ticket do I need?
Rahnsdorf is still in the B area, but as the historic tram goes to Brandenburg in C area, you need to buy a Berlin ABC day pass (7.80€) or 2x Berlin ABC single rider tickets (2x 3.40€), one for each way. This basically depends on if you plan to do a 3rd trip within Berlin later that day within the city. I would always recommend the day pass. Berlin is big and it's rarely that you finish up a day with 2 single rides.
Worldtrip Berlin Tip: If you have more time, the "SchleusenWirtschaft" offers some very comfortable house-boats for rent – Up to 10 people can enjoy a wonderful day on the lakes and rivers, have beer and barbeque or hop in the water for a cooling swim. It is even possible to rent them over night and stay all night out on the lakes. Peace, silence, nature, water, boat, friends, barbeque and beer. Life couldn't be better than that, right?! 🙂
Note: This is a non commercial post. I don't have any benefits if you go to any of the recommended places. I just like them.
Please share your experiences, tipps and tricks about Woltersdorf in the comment section to help others!
Check out more Berlin City Trips articles!