10 Best things to do in Mexico City and basic questions answered such as "Is Mexico City dangerous?"
First of all I want to answer some basic questions that might come in mind when thinking about a trip to Mexico City the first time.
Mexico City – Question and answer
Is Mexico City dangerous?
No, not necessarily. Most parts of the city is pretty safe. Especially on the main tourist spots, wealthy areas around the center and the major business areas. Also the metro is safe to ride. Still you should use your common sense. There are areas you're better off not putting a foot in. If you feel uncomfortable after leaving the metro or your transport, you should listen to your heart and turn around. Especially at night.
How big is Mexico City?
Very big. More than 22 million people are living in the metro area of Mexico City, making it the highest populated metro area in the America's. As you can imagine, distances within the city can be huge.
Which area is the best to sleep in as a backpacker?
Mexico City has many districts that are like a city in the city. The historic center around the Zocalo is good to visit, but isn't very safe at night. Most backpackers stay in Roma or surrounding areas.
How to travel within the city?
The metro is very efficient and dirt cheap. It will bring you safe and quickly from A to B. There are 12 lines that connect most parts of the city and even the airport. There are also some urban trains and countless amount of metro buses. Google maps knows most of their routes – Same as the metro's schedule. Like in most mega-cities on the planet you need to watch for pickpockets when transport is crowded.
Another option is to travel within the city is by using Uber (or similar) – As traffic situation can be really bad, you should better use the metro, if you can.
10 Best things to do in Mexico City
Let's move on to the best things to do in Mexico City. Here is a list of places you shouldn't miss when visiting this fantastic city:
1. Palacio de Bellas Artes

Palacio de Bellas Artes is a good spot tostart your visit. Metro station "Bellas Artes".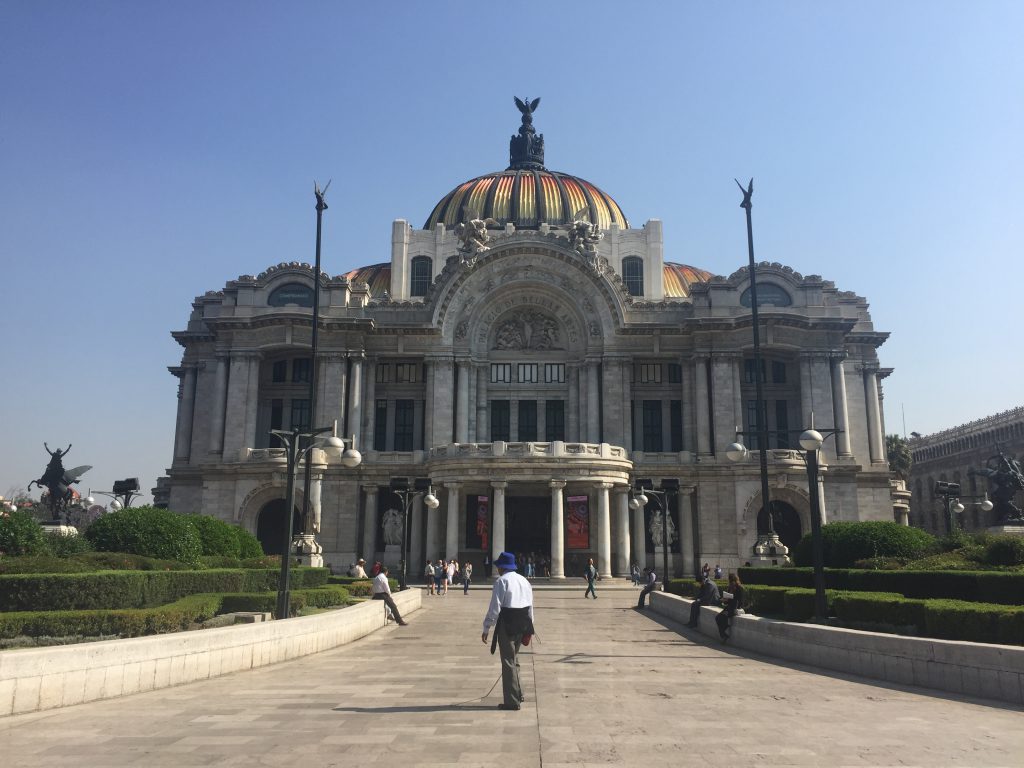 2. Torre Latinoamericana

Right next to the Palacio de Bellas Artes you can't miss the Torre Latinoamericana. It has an observation deck on top that you shouldn't miss. This gives you a good first overview of the city.
3. Zocalo

The Zocalo is, like in every other mexican city, the main square of the city, located in the old town that starts right next to the Torre Latinoamericana. It's size and architecture is pretty impressive.
4. Museum Templo Mayor
Today's Mexico City was build by the Spanish on the same spot of the former Aztec capital was build in 1325 – an island on Lake Texcoco. The Museum Templo Mayor gives you a good impression of how the former Aztecs capital looked like. It made me a bit sad thinking about this loss, especially after traveling nearly 1 year in total in South and Central America. I stopped counting the amount of civilizations which were erased by the Spanish.
5. Avenida Paseo de La Reforma

The Avenida Paseo de La Reforma is the modern hot spot of the city – the most impressive boulevard of the city. In the center there is located the "Angel de la Independencia", which was inspired by the "Siegessäule" in Berlin. The Avenida is closed for cars every Sunday several hours for alternative use of the massive boulevard.
6. Park Chapultepec

The Park Chapultepec is the gigantic central park of Mexico City and begins basically at the end of Avenida Paseo de La Reforma, so it's easy to combine those two. But be aware to have a lot of time in your pocket to visit the park. It is filled with attractions such as the Zoo, the Castle, Lakes, Monuments and museums. The most famous museum will sure be the "Museo Nacional de Antropologia" – The largest museum in Latin America. You can also find a full size Theme Park with several attractions and rollercoasters in the park called "La feria de Chapultepec".
7. Museum Soumaya

The "Museo Soumaya" is an art museum that was founded by Carlos Slim and is named after his wife "Soumaya Domit". Even if you are not the largest art enthusiast you shouldn't miss it – It's free to visit and has a spectacular architecture.
8. Coyoacan ( and Frida Kahlo Museum)

In my opinion the most charming district of Mexico City is Coyoacan. It's in the south of the city and can be reached by metro and a short walk – The perfect spot to go eating and/or for some drinks in a bit quieter environment. You can actually feel like in a small Mexican town when in Coyoacan. Beside that you can visit the Frida Kahlo Museum and the market of Coyoacan for souvenirs.
9. Aztec Stadium

Even if you are not a football or fan of any other sport, you should visit this impressive and legendary stadium. As it host several football teams such as Cruz Azul or Club America, you might be lucky see a match. You can buy tickets at several venders in front of the stadium, even shortly before the match. You need to bargain the price then. If you can't speak Spanish I would better buy the tickets online in advance or ask in your hotel/hostel for them. We watched a game of Cruz Azul, the 2nd biggest club who is playing there and were lucky enough to see the 10.000th goal ever scored in the Aztec Stadium. Note that Club America has a way higher average number of spectators – This is good for the atmosphere, but bad for buying tickets, depending on who the are playing against.

10. Teotihuacan

You thought I would have forgot this one? Sure not. There is no way that you are first time ever in Mexico City and not visit Teotihuacan – One of the most spectacular historical sights on the planet. It is quiet easy to reach by public transport or organized tours as day trip. If you have a car you can just pass it on the way to or from Mexico City. As Teotihuacan is super, super pretty, be prepared that there will be also a lot of tourists. At least the entrance price was still fair compared to other main attractions in Mexico such as Chichen-Itza, what is a pure rip-off those days.
Food and other stuff
As we are talking about Mexico, sure food need to be mentioned. Here is a variety of street food we ate in Mexico City.
If you are a rollercoaster and theme park geek such as I am, you sure need to check out Six Flags Mexico. It's located next to Mexico City and offers a impressive variety of rides.
Check out more Mexico reports!
Check out my first Mexico City report from 2013!