From Cartagena, the city that combines Spain with Miami, to Isla Grande of the Islas del Rosario where there is no electric power, running water or internet
This is a classic travel report about Cartagena and the Islas del Rosario. We arrived in Cartagena by plane from Bogota with Wingo as it was as cheap as the bus. I know, that is was the environmental friendliest move, but yeah we were short one time. Traveling and environmental friendliness isn't always consistent, but we try our best to travel as much on the ground as possible. Anyway, this is a different and long topic to discuss about.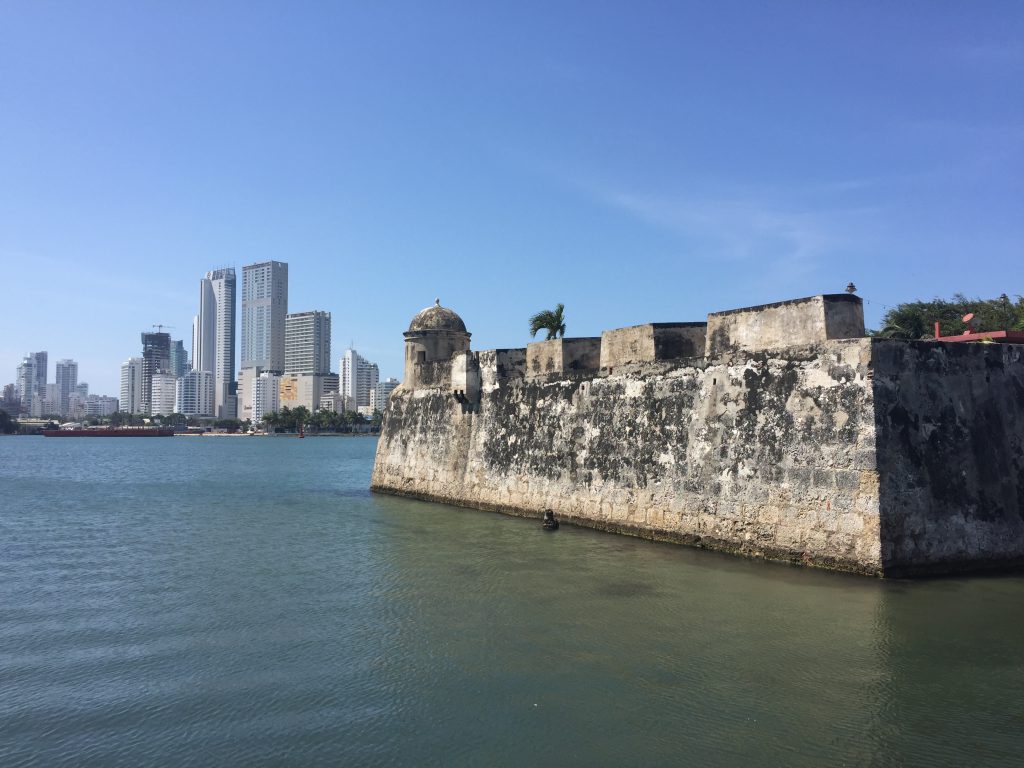 Cartagena – Beauty has a name
Yes, Cartagena is damn pretty. You can feel like in a Spanish old town and have a view like on Miami's Skyline in one and is located in the Caribbean. Where else can you see that? I tell you – Nowhere! As Colombia is getting a popular tourist destination, the streets of Cartagena's old town are pretty crowded meanwhile. This gets significant when I set it in relation with my first visit in 2013. Still, it's pretty and you need to see it. As Cartagena is quiet easy to understand and explore, I will save my words and let pictures speak.
World Trip Berlin Tip: As the old town can be pretty annoying you should pick a hostel or hotel close outside the old town. Cartagena has a efficient bus system that will bring you to town quick or you simple walk. We stayed in Manga area and enjoyed the walk towards town. Another option is to sleep at Bocagrande, but this can be a bit more expensive.
Going to Islas del Rosario
After a day of showing Sara the city of Cartagena, we decided to do something, that I also havn't seen yet – The Islas del Rosario. Even there are different islands to find a place to sleep at, the most affordable places to sleep are on Isla Grande, so we picked one of the eco camping options there.
World Trip Berlin Tip: For some reason they offer you day trips from Cartagena to the Islas del Rosario. As the boat ride is long and boats often depart late, you will not have much time on the islands. On top they will likely bring you to some isolated tourist trap restaurants. If you want to enjoy this place, make sure to stay at least two nights. If you like simplicity, silence and peace, stay longer.
No power, no running water, no internet
The eco camping places are very basic. They have no running water, no internet and no power. At least we could charge our phones during daytime with solar energy to take some photos. Once we checked in we went to the close by beach.
Next to the beach we found the place to be if on Isla Grande: Sol y Papaya Bar&Restaurant. The bar is operated by a local guy and his girlfriend who is from Italy. Even we speak Spanish it was very comfortable that them two could speak fluent English. Hanging on the beach and later eat and drink at Sol y Papaya is the definition of a place in paradise.
World Trip Berlin Tip: As the bar doesn't have any energy as well, it's the perfect place to have some good conversations until it's dark and the candle light is shining on your face. This is so comfortable, that you forget to think about, what happens on your way back. Remember, the island has no power, that means also: No street lights and any light of civilization. Your way home from the bar is pitch black. My tip is to bring you some powerful flashlights, as we had problems finding the way back home with just the phones.
Day of activities on the island
Next day we choose to do one of the activities they offer on the islands. As I mentioned before, this is not much. You can dive, snorkel and take some guided tours at night to some bays that glow at night. As we preferred to chill the evenings at Sol y Papaya and diving was expensive, we decided to snorkel a bit and explore the island by foot after.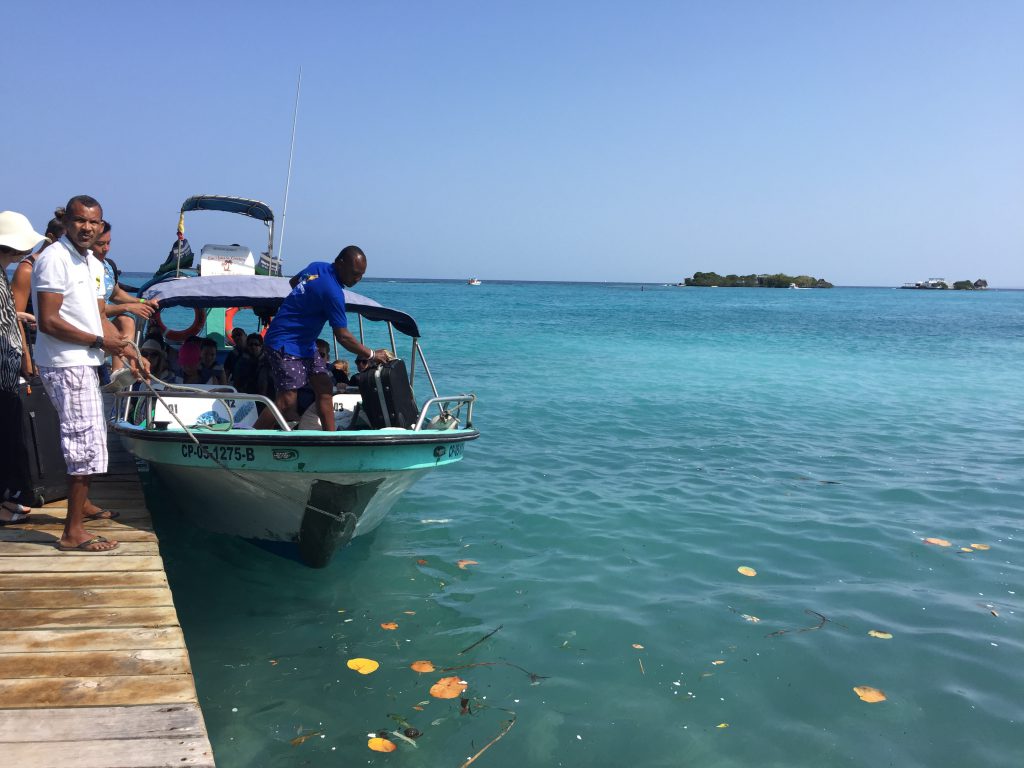 Contrasts
After finishing snorkeling and a fair bit of walking we found the main village of the island. It's impressive to see how basic and in poor conditions the locals live here – Especially regarding to the fact, that some kilometers by boat on you can spot the high rises of Cartagena.
The spooky tourist hotel
A little walk more we reached the other side of the island. We spotted a bigger hotel, but couldn't find any entrance to it. As we walked around it we found a little Pier with a boat. The captain of the boat invited us to jump on his boat and from there into the hotel to access the their restaurant and private beach. Soon we realized, that this place was one of those isolated place for the day trip tourists of Cartagena – The reason I mentioned in the World Trip Berlin Tip earlier to not go to the Islas de Rosario for a day tour.
The moment we ordered a drink at the bar and celebrated our encounter with a ice cold beer, the captain of the tourist boats started to collect all their tourists to go back to Cartagena. It was kind of a hassle to explain them that we are not going back to Cartagena. Once they left we were the only non local people in this "hotel". Something was damn weird about this place, so we decided to leave, but couldn't find the door. After asking 4 people in Spanish some of the employee's showed us the way to a small, hidden, wooden door, that seems to be the only entrance or exit to this place. You can imagine that we were happy to be back at Sol y Papaya later. 🙂
Going back to Cartagena
The next and last day we went quickly to the close by Playa San Pedro beach for a last cooling swim before going back to Cartagena city.
The last evening in town we decided to catch the local bus to Bocagrande for dinner and drinks. Coming from an island that has no running water, no energy and internet it felt kind of strange to back in between the high rises of Cartagena's Bocagrande district.

Even Bocagrande has a bit the feeling of a typical resort destination by the sea, I surprisingly did like it a lot. The main street is perfect for an evening stroll and has a big variety of good restaurants to offer in an relaxed athmosphere – With fairer prices than the old town. Give it a try.
Check out all Colombia reports!
Check out older Cartagena report from 2013 as well!