Top things to do in Nusa Lembongan – A guide to activities, relaxing and perfect evenings
How to get to Nusa Lembongan is a question that is easy answered. Several agencies in Kuta offer the boats. Make sure to ask some traders, as the prices may vary. You may even be able to bargain, but always keep in mind: South East Asian's are friendly people by nature and often turn into cheating dicks when to much in contact by western tourists. This is mostly because of bad and unfriendly behavior of the tourists that somehow think, they are something better just because they are in a bit cheaper country. Remember to smile and be nice and they will give you a good price and take care of you.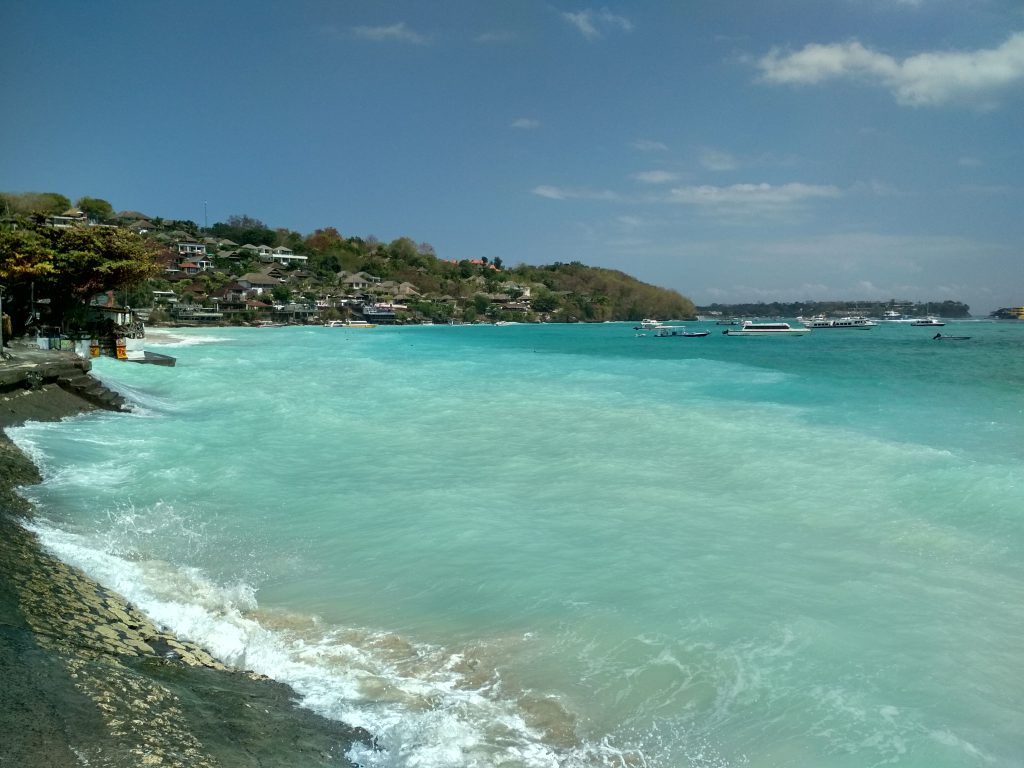 What makes Nusa Lembongan special that I need to go there?
Yes, you could stay on the main island of the Bali region and you may ask why you should go to Nusa Lembongan. I give you some reasons:
The boat journey to Nusa Lembongan is an experience itself
Nusa Lembongan is basically two islands, as Nusa Lembongan is connected by one single bridge to Nusa Ceningan. Both islands have a totally different character
The snorkel and dive trips you can do on Nusa Lembongan are fantastic – You have a good chance to see manta rays
You can see an underwater museum
It has tons of good restaurants in different areas of the island – The kind of restaurants you see in movies of perfect places that make you dream about traveling
It's way, way more chill than the main island. Sure it's touristy, but it has a very calm atmosphere, that doesn't feel like being in mass tourism like in Kuta or Cancun
It has amazing old Balinese towns on it, so you can experience a bit more of the culture
You have the option to take a small boat for a small amount of cash and go even further and explore the bigger Island next to it: Nusa Penida
Does that sound like you? Then make sure to include Nusa Lembongan to your Bali trip itinerary. If you have time, add Nusa Penida to it as well.
The ferry ride to Nusa Lembongan
As I mentioned, the ferry ride is an experience itself. There is no real port, so the bags and you get loaded inside the water on the beach. The high waves can make this pretty very complicated. Same counts for the ride itself – The boats are tiny 700HP speed boats that basically dance on the waves – Or jump over them. There is a good chance to get sea sick, but it's a hell of an experience. The thing that made me comfortable in this boat is, that the driver looked like that this is the most boring thing he did in his entire life. So I guess, it wasn't his first time doing this.
Where to stay on Nusa Lembongan?
At the end you need to decide your place to stay at, but I can tell you where we stayed and why that was a good decision.
The little town the position is marked at is very much in the center of everything and the most historic and real place on the island. I marked the undground house for orientation. Try to find something to sleep at close to it, as…
It's close to best area for food and drinks around Mushroom Beach
It's close to the Yellow Bridge to cross over to more silent Nusa Ceningan island and
It's still close to the main town of the island
Top things to do in Nusa Lembongan
Once you are on the island, I highly recommend you to rent a scooter for transport, so that you can fully explore the two islands. It's dirt cheap and basically available everywhere. Often the hotels or hostels can organize something for you or you just ask directly in some motorbike rental places when you arrive.
When you have your scooter, you are good to go to enjoy the place. These are some ideas of activities on Nusa Lembongan.
1. Take a boat ride through the mangrove forest
World Trip Berlin Tip: You can bargain for the price of the boat trips. There are many boat drivers, so they will accept your offer. If not you go the next one. Then finally they will accept.
2. Swim next to the mangroves in the shallow waters
World Trip Berlin Tip: Next to the road to the mangrove forest there are some fantastic places where you can sit by the beach. You just need to order some drinks there
3. Go for a snorkeling tour
World Trip Berlin Tip: Same thing like with the mangrove tours. There are many operators, so you can bargain a bit. We did a tour with the guy on the last photo above. His company is doing a great job. The name is on the T-Shirt.
4. See the Blue Lagoon
World Trip Berlin Tip: Next to the Blue Lagoon is located the Mahana Point restaurant. By far my favorite spot to eat and drink on the islands
5. Pantai Mahagiri Beach
6. Feel the power of the waves at Devil's Tear
World Trip Berlin Tip: Go there shortly before sunset as there is a little bar setting up at this time to serve the people who watch sunset from there. Of cause you wanne join them for a beer, do you?! 😉
7. Enjoy wonderful evenings in the Mushroom Beach area
Enjoy the evening with good food and some drinks later in the Mushroom Beach area. Here you can find a lot of Restaurants and bars in a row, kind of like a small island style nightlife district
Check out all Indonesia reports!